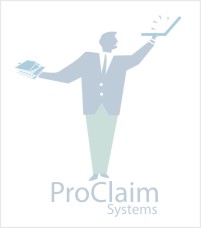 About Us
---
"Application's that support themselves"

ProClaim Systems is a software development company specializing in creating "best of breed" software applications for the health care sector. Our employees are tops in their field, bringing years of experience in the unique combination of IT and health care business practice. This "cross-over" skill set gives ProClaim an advantage in the marketplace.
---
ProClaim Systems specilizes in Web-based software technologies on the J2EE platform (Java). Our software is from the very best designers in the United States, utilizing advanced Object Oriented techniques to minimize code maintenance and provide for a more reliable system architecture. Because our systems enjoy exceptional designs, time-to-market for all enhancements and maintenance activities are far less than our competitors. We pay up front in meticulous engineering so you don't have to pay down the line.
ProClaim Systems goal is to create software application's that support themselves. We strive to create systems where the user's themselves have control of every aspect of configuration down to the most minute details.